Watch the video below to see the examples of the GoPro Camera WITHOUT our color correction filter and WITH our FLIP4 Color Correction System while diving at various depths: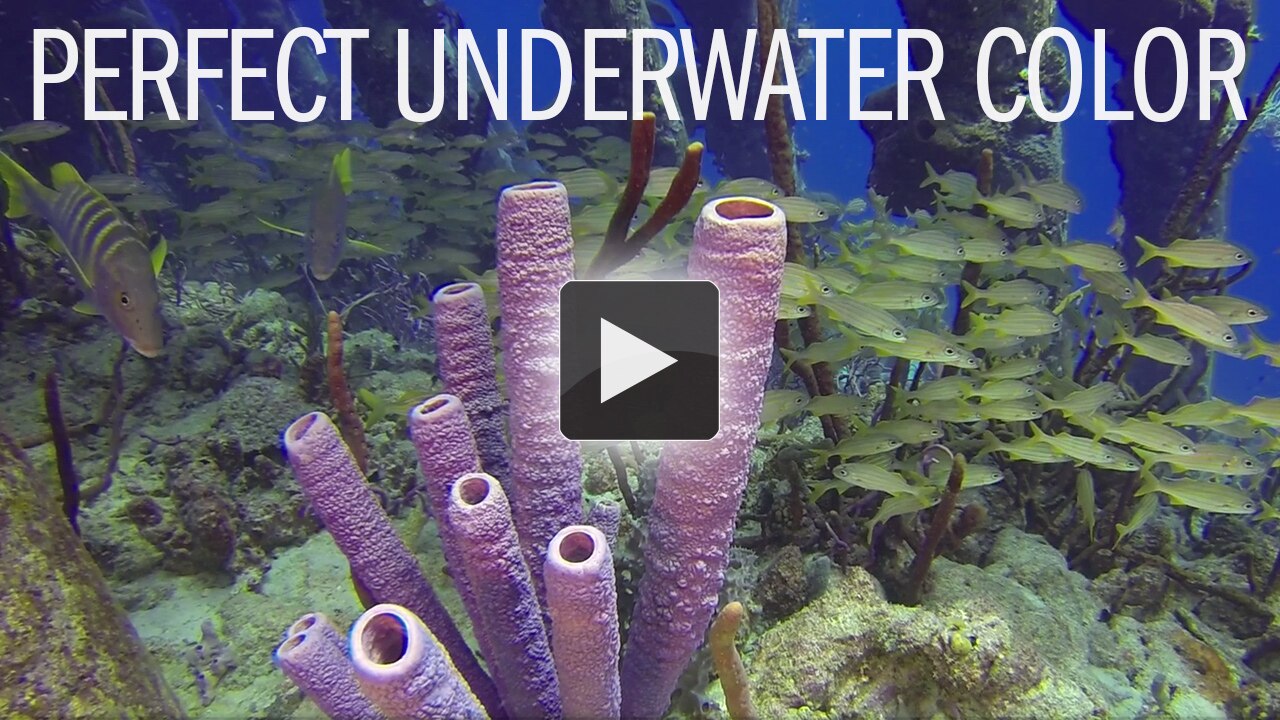 SOLUTION: FLIP5 COLOR CORRECTION SOLUTIONS
As hardcore GoPro users, we discovered that capturing the best underwater color requires the use of multiple filters. After hundreds of hours of testing, we've perfected a multi-filter system and integrated it into our world-renowned FLIP design. The FLIP5 Filter System gives you multiple filters at the flip of one finger. Optimal color has never been so easy!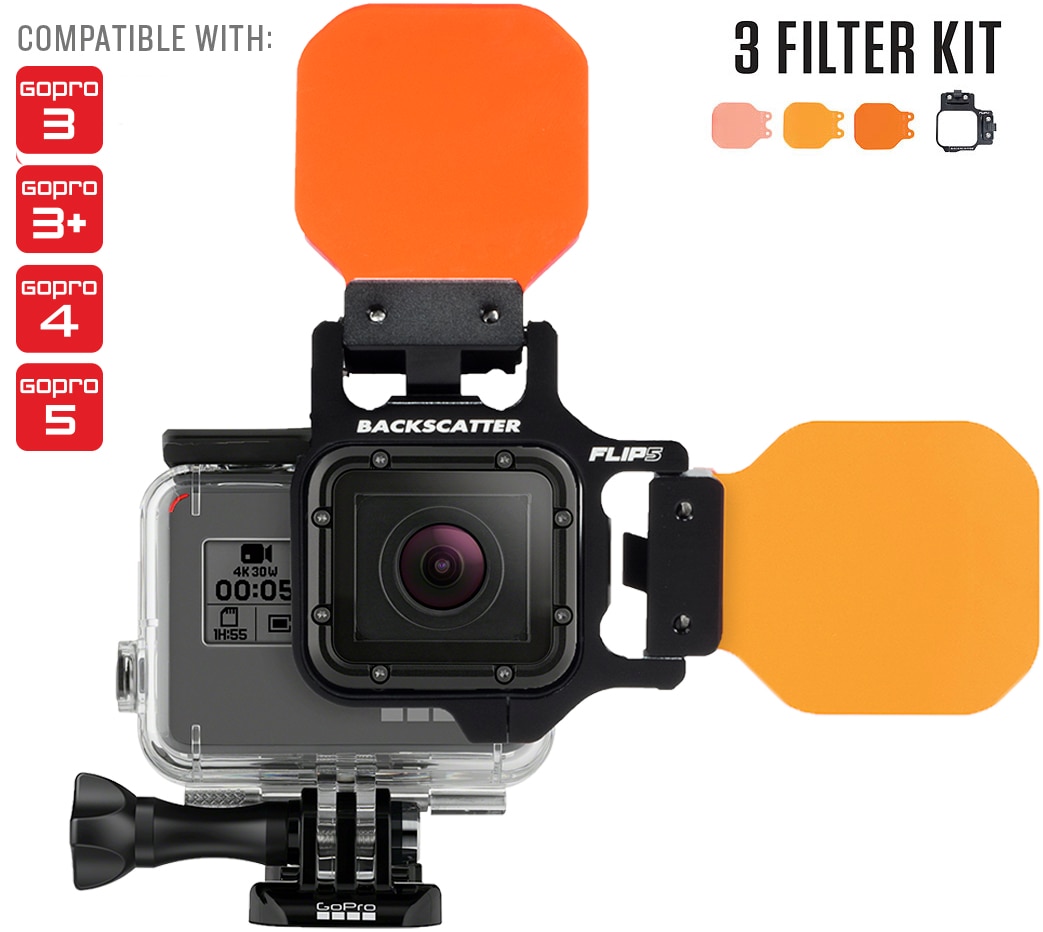 The FLIP5 Filter System features a universal filter shape that works with either on the side or top position. The FLIP5 System features professional craftsmanship made of aircraft grade anodized aluminum. Get the FLIP5 Three Filter Kit for two filters on the same dive, and change them with a flip! Outfit your GoPro 3, 3+, 4, 5 or 6 with SHALLOW, DIVE, and DEEP filters, our GREENWATER filter or add any other filter via our 55MM Filter Holder.
Get Perfect Color in Green Water As Well!
Not shooting in blue water? Try our GREENWATER color filter for perfect underwater color in cold water diving locations like Monterey, Catalina, British Columbia, Norway, freshwater lakes, and more. Below is a short video shot with the GoPro Hero4 Black outfitted with our GREENWATER filter along with our +15 MACROMATE MINI as well as +10 Close-Up!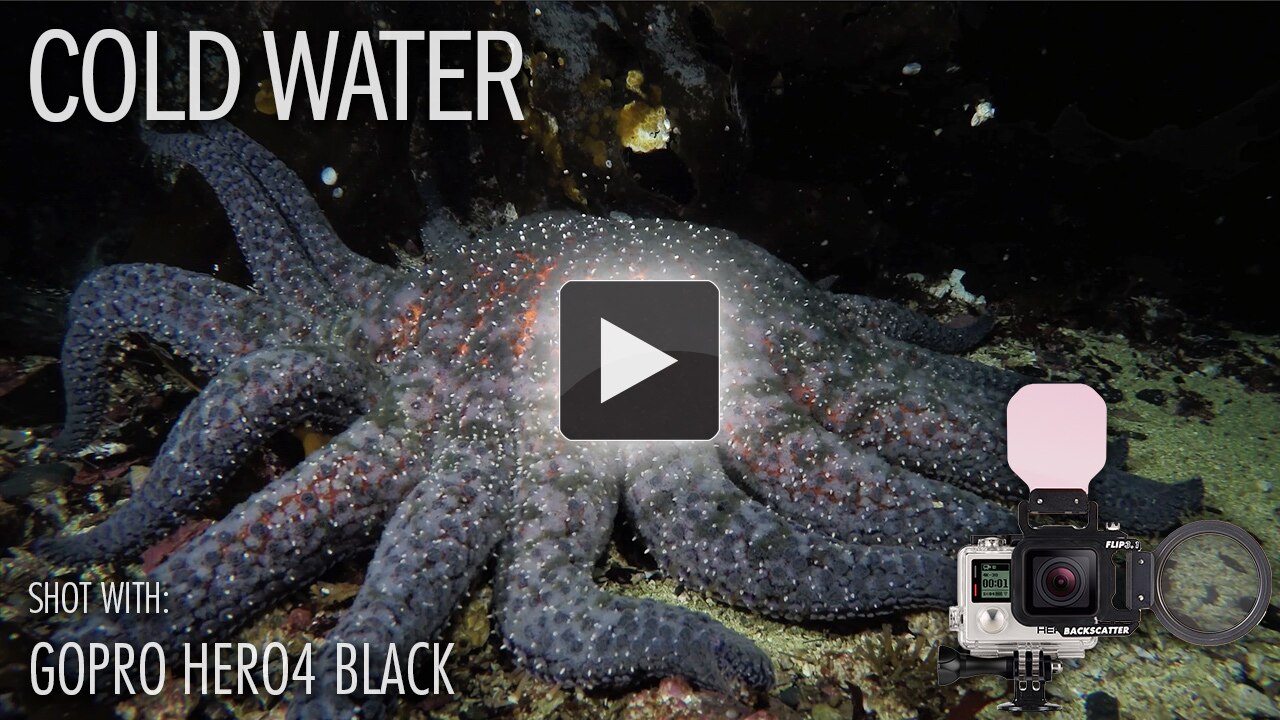 Diving at night with your GoPro and wanting to take NIGHTSEA photos or video? Get our NIGHTSEAfilter. The following filters can mount directly to the side or top flip hinge.
FLIP5 Color Correction Filters Compatible With Side And Top Hinge

The following filters can mount directly to the side or top flip hinge with the use of the 55MM Filter Holder.


55mm Lenses and Filters for Threading Directly to 55mm ​Filter Holder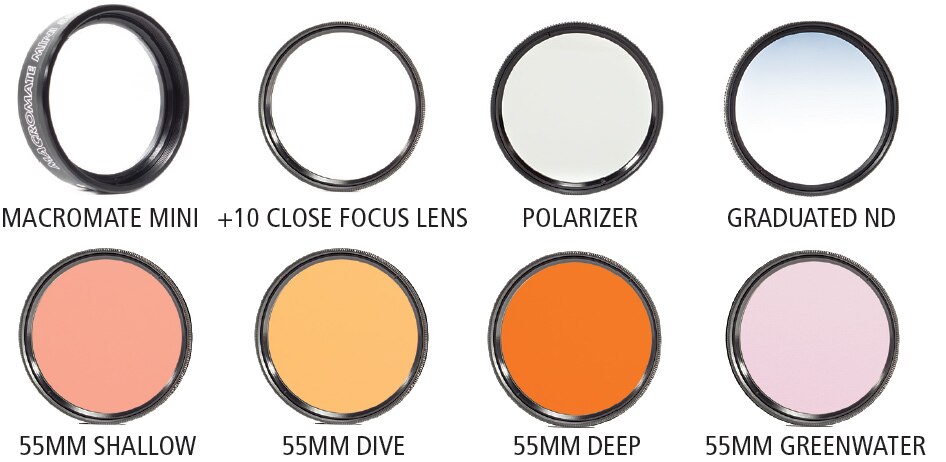 CHALLENGE #2: BLURRY CLOSE-UP PHOTOS & VIDEO
Without corrective optics, GoPro 3, 3+, 4, 5, 6 cameras can only focus to about 1-2 feet underwater. The custom +15 MACROMATE MINI design allows you to get within 3 inches of your subject so you can bring the tiny wonders you find to the big screen. If your favorite underwater subjects are about the size of a golf ball, the +15 MACROMATE MINI is about to become your best friend.
SOLUTION: FLIP +10 CLOSE-UP & +15 MACROMATE MINI - PROFESSIONAL GOPRO MACRO
he Flip +10 Close-Up works great for shooting subjects sized from soccer balls down to golf balls that are roughly 8-12 inches from the camera. However, the +15 MACROMATE MINI brings your focus to about 3 inches allowing you to fill the frame with subjects as small as a golf ball. The video frames below were shot with a GoPro Hero3 in narrow video mode and illustrate the difference between the lenses. The scorpion fish head was about the size of a softball. The camera was moved closer to the subject to get the +15 MACROMATE MINI image. Our staff favorite macro configuration is a FLIP5 with both a +15 MACROMATE MINI and +10 Close-Up Lens so we're ready for all subjects.

Use FLIP Macro Lenses for Stunning Macro Photography
The sample photos below were taken with a
GoPro Hero 3+
+ Black camera set to medium photo mode. The first image is without lens and the second is with the +
15 MACROMATE MINI
.

Use FLIP Macro Lenses to Bring Tiny Action to the Big Screen
The video below was shot with a GoPro Hero3 camera set to narrow video mode and a +
15 MACROMATE MINI
lens. While the +
15 MACROMATE MINI
works in wide, medium, and narrow video modes, the narrow mode gives you the sharpest edges and the most stunning results. Watch this video to see how the +
15 MACROMATE MINI
has revolutionized GoPro for underwater.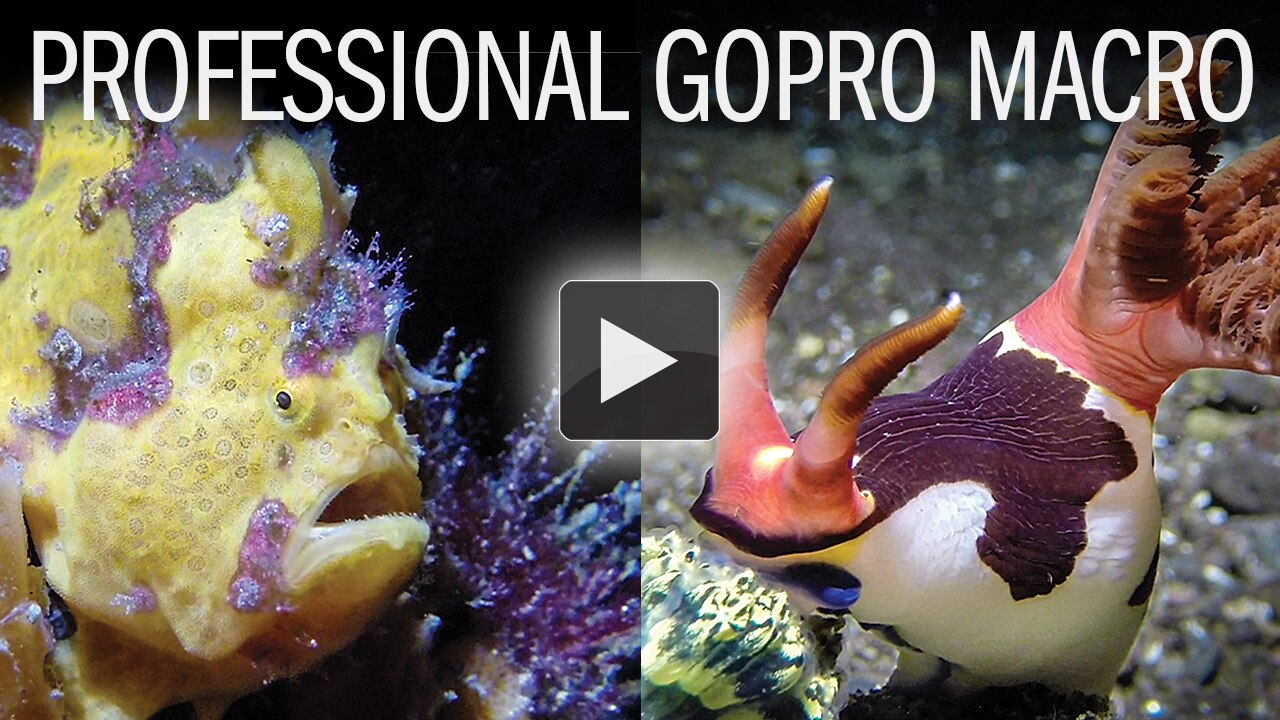 Fumble Free Flip Design Means You'll Never Lose Your Lens
When the action is happening, you don't want to be fumbling with lenses. Our world famous flip design gives you one finger access to color filters and lenses on the same dive without the fear of dropping a lens into the deep. The +
15 MACROMATE MINI
threads securely to the aluminum 55mm flip adapter so you can always keep it handy. As you know, dive trips are expensive and require a lot of effort. The last thing you want to do is fumble or break gear on a once in a lifetime trip. The FLIP system and +
15 MACROMATE MINI
will not let you down and more importantly it will revolutionize the way you use a GoPro underwater.